Messengers of the World (MOTW) is our international volunteer program through which we seek to train young social leaders from around the world committed to social change and transformation.
Through our volunteer programs, we aim to stimulate personal growth, empathy, and social consciousness. We believe that volunteering has the power to awaken a sense of purpose and ignite the potential within each individual. By engaging in hands on activities and meaningful projects, volunteers are inspired to make a difference and contribute to positive change.
Volunteering is an opportunity to sensitize individuals to the challenges faced by marginalized and vulnerable populations. We aim to raise awareness about social issues, break down stereotypes, and encourage empathy and understanding. By exposing volunteers to different perspectives and realities, we foster compassion and a commitment to social justice.
We coordinate with each volunteer to develop different activities according to their personal interests. During the period of volunteering, which generally lasts 2 full months, the international volunteering referent will designate tasks and follow up. Each volunteer will get to know the different programs, projects and/or homes of Mensajeros. Towards the end of the two months, the volunteers will have a final meeting and give feedback on the work done. Each volunteer will receive a certificate of partic ip ation at the end of their volunteering.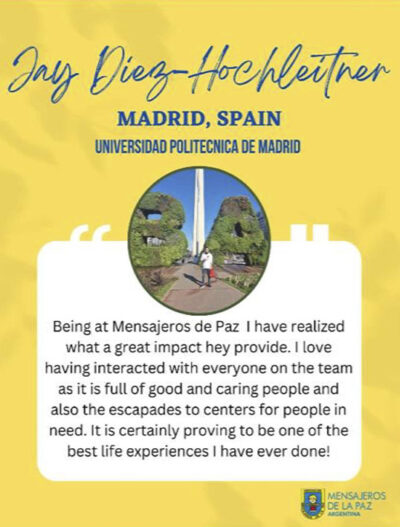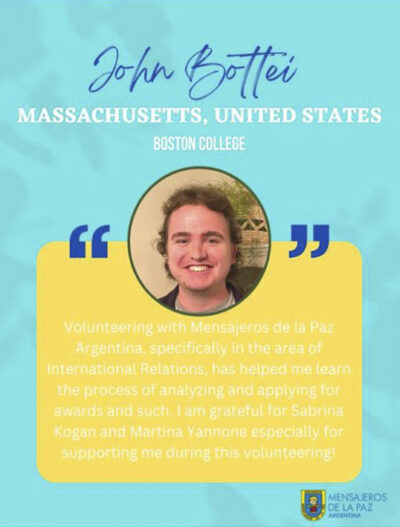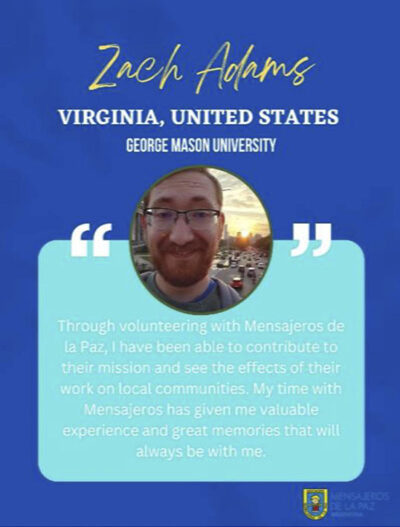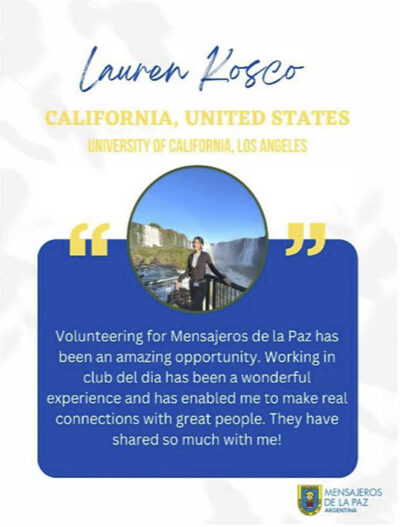 Yes! We have remote opportunities for international volunteers. However, you must have access to a computer, good internet connection and availability to work with adaptability to our time zone (GMT 3).
International Volunteer Opportunities
Buscamos educadores para nuestro Programa de Fortalecimiento Educativo. Con experiencia en educación primaria, y perfil social. Inicio: marzo 2023 En el cuerpo del mail contanos por qué te gustaría trabajar en Mensajeros de la Paz, la sede elegida y tu remuneración pretendida. ¡Muchas gracias! TAREAS DE LOS PUESTOS: Acompañar a niñas/os participantes en la resolución de tareas específicas Planificar actividades grupales con temas específicos Detección de situaciones de vulneración de derechos Reporte a la coordinación diario de actividades Elaborar informes dando cuenta de las situaciones individuales de los participantes CONDICIONES LABORALES Monotributo Carga Horaria: 6 horas semanales (dos días, 3 hs cada uno) Ubicación: Cristo Obrero lunes y miércoles de 17 a 20 hs Caacupé martes y viernes de 16 a 19 hs Floresta miércoles y viernes de 16 a 19 hs Lugano martes y jueves de 16 a 19 hs
ACCOMPANY US TO MAKE IT POSSIBLE: